Supreme Court reduces Murtazalieva's sentence by six months
Tweet
RUSSIA, Moscow. On March 17th, the Supreme Court of the Russian Federation, after examining a writ of appeal from Zara Murtazalieva's attorneys, reduced her sentence from nine years to eight and a half years. On January 17th, The Moscow Court sentenced Zara Murtazalieva to nine years of deprivation of freedom on the charge of preparing to commit terrorist acts in Moscow.

Murtazalieva's attorney, Vladimir Suvorov, emphasized that his client's human rights were violated. He said that Moscow Court twice illegally refused to allow audio-taping, so he could not prove the falsification of protocols in court. The court could not refute Murtazalieva's statement that so-called material evidence (explosives) was planted. Now the explosive packaging, which did not undergo fingerprint examination, has been destroyed.a
Zara Murtazalieva's lawyers, Vladimir Suvorov and Zezag Usmanov, intend to appeal to the Presidium of the Supreme Court of the Russian Federation and to direct a complaint to the European Court for Human Rights. Vladimir Suvorov noted that the European Court always pays attention when courts ignore protections regarding the innocence of the defendant. The Supreme Court's decision showed the means by which combating terrorism is conducted in Russia. Any person can be made a terrorist. It suffices to find two people to say that the accused tried to persuade them to bomb something. The reduction of six months is a mockery of justice, according to Suvorov.

Iscritti e contribuenti 2015
| | |
| --- | --- |
| PIERLUIGI G. Acuto | 590 € |
| LUIGI D. Roma | 590 € |
| GIAMPIERO T. Roma | 590 € |
| PAOLA C. Roma | 200 € |
| FILOMENA G. Roma | 590 € |
| MARIO C. Montevarchi | 590 € |
| PAOLO M. Roma | 200 € |
| CLAUDIO P. Zugliano | 100 € |
| GAETANO S. Roma | 200 € |
| VALENTINA T. Collebeato | 600 € |
| Total SUM | 353.319 € |
Iscrizioni e contributi (online)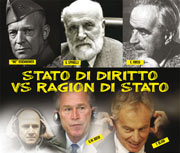 1° Convegno di Bruxelles
Per lo Stato di Diritto e i Diritti Umani contro la Ragion di Stato