CASE OF NEVEROVSKY: THE JUDGE KIROSIROVA DIDN'T USE HER CHANCE TO RESTORE THE AUTHORITY OF THE OBNINSK CITY COURT - WHAT WAS HAPPENING THERE YESTERDAY AND TODAY HAD NOTHING IN COMMON WITH THE JUSTICE
Tweet
Obninsk - Moscow, July 26, 2000. Today in the Obninsk City Court the second court trial on the case of Dmitry Neverovsky which lasted two days has come to an end. Neverovsky is a conscientious objector, a member of the ARA and the Radical Party, he was accused of "evading the military service" according to the Art. 328.1 of the Russian Criminal Code.

The counsel for the defense of Neverovsky represented by the famous Kaluga lawyer David Slitinsky, the mother of Dmitry and the deputy of the Obninsk City Assembly Tatiana Kotlyar, and the ARA secretary Nikolay Khramov, insisted on the acquital of the defendant for lack of the corpus delicti, basing on the Art. 59.3 and 18 of the Constitution of the Russian Federation and on the well-known definition of the Constitutional Court of the Russian Federation of May 22, 1996. Besides that, as David Slitinsky pointed out in his speech, the defendant at the moment of indictment wasn't liable for the military service because he had achieved to the moment the age of 27, and therefore the corpus delicti lacked in his actions for this reason as well.

The public prosecutor ignored the conclusion of the forensic psychological expertise prescribed by the prosecutor's office which defined that Neverovsky had convictions which contradicted the performance of the military service, and declared that "though the convictions of the defendant contradict the performance of the military service, they are not an obstacle to it" (!). He asked the court to sentence that Neverovsky is guilty of conscientiously evading the military service, to sentence him to two years of imprisonment and to discharge him by amnesty in view of the 55th anniversary of the victory in the Great Patriotic War.

The sentence pronounced today by the judge Maria Kirosirova almost literally repeated the bill of indictment. The judge who could not totally ignore the conclusion of the forensic psychological expertise, pointed out in the sentence that the conclusion of the expertise was estimated by the court in the aggregate with all the evidences (that is, with the testimony of the military commissar colonel Podgursky who was subpoenaed as a witness, and the copies of the call up papers) and the court concluded that Neverovsky had not convictions which contradicted the performance of the military service. Neverovsky is sentenced to one year of imprisonment and discharged according to the act on amnesty adopted by the State Duma.

The cassation appeal against the today's sentence will be presented by the counsel for the defense of Neverovsky to the Kaluga Regional Court within few next days.

Per una campagna dello Stato italiano in sede ONU per la transizione allo Stato di Diritto codificando - per affermarlo – il diritto umano alla conoscenza
Chiedi al Consiglio del Comune, dell'area metropolitana di approvare questa delibera.
Documentazione consegnata il 4 novembre 2015 al Presidente della Commissione parlamentare di Vigilanza Rai Roberto Fico in occasione dell'incontro con una delegazione radicale.
Documentazione relativa alle iniziative radicali in corso consegnata il 13 maggio 2015 al Ministro della Giustizia Andrea Orlando in occasione dell'incontro con una delegazione radicale.
Leggi ->
Iscritti e contribuenti 2016
| | |
| --- | --- |
| Francesca G. Verona | 200 € |
| Lorenzo R. Torino | 1 € |
| Simona Serena D. Roma | 5 € |
| Domenico F. Arnara | 200 € |
| Marco C. | 200 € |
| Marco P. Milano | 200 € |
| Gianluca G. Recanati | 200 € |
| Daniele L. Portomaggiore | 200 € |
| Carlo F. Legnago | 250 € |
| Paolo L. La spezia | 200 € |
| Total SUM | 295.543 € |
Iscrizioni e contributi (online)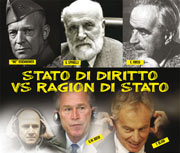 1° Convegno di Bruxelles
Per lo Stato di Diritto e i Diritti Umani contro la Ragion di Stato